Results-based Training Studio in Madison
Gain Strength Feel Better Transform
Unleash Your Potential with Our Personalized Training Programs in Madison, WI
Dive into a diverse range of result-driven fitness programs at Custom Fitness Specialists, tailored to meet your unique goals and needs in Madison, Wisconsin.
Start your personal fitness journey in Madison, Wisconsin, with Custom Fitness Specialists.
Our experienced trainers devise customized exercise plans tailored to your goals, whether that's shedding pounds, sculpting muscles, enhancing strength, or improving overall wellbeing.
Individualized training is a great option for those who are nervous about starting a fitness experience or prefer to not work out in a group.
Experience a smarter, more effective way to train at Custom Fitness Specialists in Madison, Wisconsin.
Participate in workout sessions that are specifically designed to help you move better, build muscle, and shed body fat.
Our small group setting offers a blend of individualized instruction and shared inspiration, appropriate for every fitness stage. We value high touch-point coaching, in a completely non-intimidating setting.
If you are sick of high impact, excessive cardio, injury risk workouts that leave you feeling worse than when you started and left in a plateau, our small group training program is for you.
Our nutrition coaching program is truly transformational. 
Learn how to effectively fuel your body, all while reaching the body you have always wanted. 
Our incredible team of coaches will work with you by learning your individual needs all without restriction. Our goal is to give you the tools to be successful for life. 
Click the "learn more" button to see how our coaching has led to 1,000s of transformations and how it can for you too.
Unleash your potential on stage with the unbeatable Contest Prep program at Custom Fitness Specialists in Madison, Wisconsin.
We navigate you through each facet of the preparation process, from workout regimens to nutritional counsel and stage presentation techniques, all while upholding complete transparency.
We work with both veteran competitors and those who are completely new to the sport. Join our team today.
Your Premier Fitness Training Studio in Madison, Wisconsin
Welcome to Custom Fitness Specialists, the premier fitness studio in Madison, Wisconsin, dedicated to delivering unmatched fitness and nutrition services.
Our coaches at Custom Fitness Specialists help educate our clients on science-based training and nutrition strategies to help you achieve the stronger-leaner body that you are searching for. Our program is specially designed for anyone who wants to be in control of how their body looks, feels, and functions.
We have helped 1,000 of clients take the guesswork out of their training and nutrition. We value every client that walks through our door and look at each client as an individual that has specific needs. You are never just a number at CFS.
We offer…
Small group strength training capped at 8 people
1:1 customized nutrition coaching
Contest prep for bodybuilding competitions
Personal 1:1 training
In person or online
Start your fitness journey with Custom Fitness Specialists today with a free initial consultation. We promise not to try to get a "quick sale," but we truly want to help.
Explore the experiences of our satisfied members and understand why Custom Fitness Specialists is the preferred choice for personalized fitness training in Madison, Wisconsin.
"I would not be as successful as I have been without them."
SMALL GROUP & CONTEST PREP CLIENT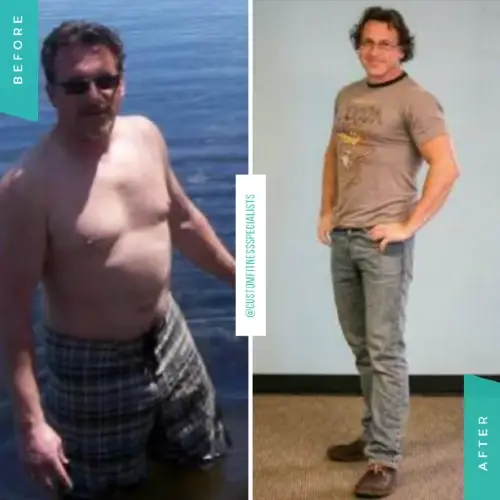 "I've lost more than 20 pounds of fat and increased my muscle mass."
SMALL GROUP TRAINING CLIENT
"They've changed my life for the better."
Get to know our team of dedicated and experienced trainers, who are passionate about guiding individuals towards their unique fitness goals in Madison, Wisconsin.
CERTIFIED PERSONAL TRAINER & Nutrition Coach
BA OF SCIENCE, HEALTH PROMOTION